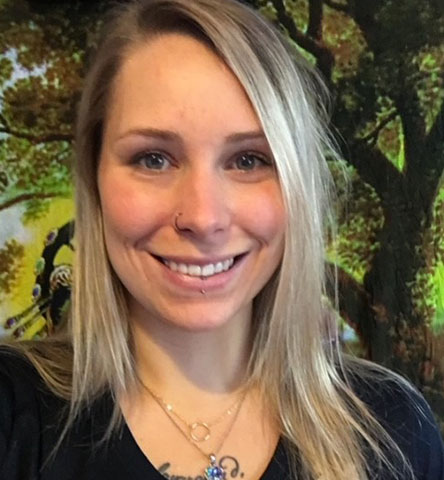 Carlie Lovell, RMT
Carlie was born and raised in Kamloops BC. In 2012 she started taking small trips and soon found that traveling was her passion. After living in Australia for a year and traveling around South East Asia, she returned to Kamloops and started working at a mill. In 2016 Carlie realized that working at a mill wasn't for her and decided to move to Vernon to attend Okanagan Valley College of Massage Therapy.
Carlie graduated in 2018 and is now a part of the team at Gathercole Chiropractic & Massage. She has an active background and some of the sports she played growing up were hockey, basketball, soccer, volleyball and her favorite, rugby. Now her activities of choice are snowboarding, wakeboarding and hiking during the summer.
Carlie's preferred areas of practice are working with sports injuries, chronic pain, and helping those who suffer from headaches. A few techniques she has experience with are Myofascial release, Swedish Massage, Pregnancy Massage, Joint Mobilization, Infant Massage, Trigger Point work, Sports Massage and Deep Tissue. Carlie starts and finishes each session with an assessment, performs special tests and always ends with educating the patient and giving homecare. She plans to continue growing by taking continuing education courses to further her knowledge and abilities to help others.